Superplastic Forming
Superplastic Forming is a forming technique using material heated to the super plastic state. This provides a high elongation ratio, which is required for complex shapes.
This process utilizes precisely controlled temperatures and gas pressures in order to control deformation rates.
Superplastic Forming Press (SPF)
Metallic or ceramic platens up to 138in x 80in
Hot box with temperature homogeneity at 1800°F
High accuracy and repeatability of ram position
High accuracy of gas management system, with multiple lines
Option of dual capacity of SPF/HF for optimized quality and cycle time
Easy integration of automated die and part handling system
CAM (Computer Aided Manufacturing) Tool design/manufacture and on-site set-up
Machine tonnage range is from 60T to 3000T
Typical parts produced on this type of machine are : Titanium, Aluminum, and Nickel based alloy parts, pylon panels, nacelle panels, firewalls, engine parts, fan and OGV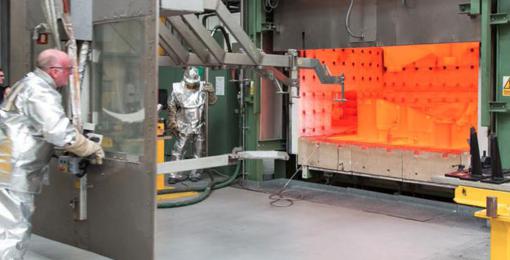 Customer support

Cyril Bath offers
Maintenance Services
Cyril Bath proposes a range of preventive maintenance services to meet the needs of each machine user.
Discover this service